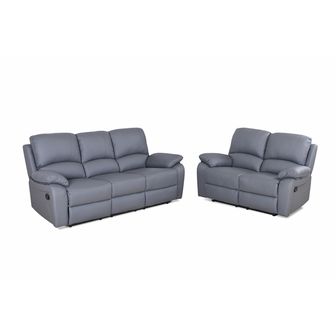 Colours Available
Buy this from as little as £23.91 a month.
NEXT DAY DELIVERY AVAILABLE
CALL 07584 133144 AND ASK FOR GARY
Amazing Value Package Deal
3 Seater and 2 Seater
Treat your living room with this 3 seater and 2 Seater all recliner suite, designed to give a luxury and classic look that is comfortable and stylish, sure to look great in any room. The Bari suite is a great choice that combines comfort and style to create a luxury look, made from soft leather at an affordable price.
Constructed with high back and thick padded armrests for extra comfort,
This Model is on Display at our Dover Store where you'll be able to see full range of colours and leather options.CLICK FOR DIRECTIONS
---
---
Features
Soft Padded Arm and Footrests
Specification
High Back Offers Support-Manual recliner
Dimensions
3 Seater
Width 2130mm Depth 820mm Height 1000mm
Width 84 Inches Depth 32 inches Height 39 Inches
2 Seater
Width 1450mm Depth 820mm Height 1000mm
Width 57 Inches Depth 32 inches Height 39 Inche
Need any help!
Call Gary at our Dover Store
01304 242422
Email me Details
Entire Range & Combinations